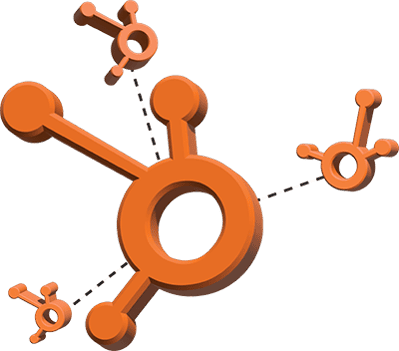 Powerful integrations to drive your business goals
The Hubspot CRM platform is more than just one service. It has all the tools and integrations you need for marketing, sales, content management, and customer service. Each product in the platform is powerful alone, but the real magic happens when you use them together. Align your platform with your business goals to bridge the gap between marketing and sales and watch your growth accelerate.
Marketing Hub
All your marketing tools and data — all under one roof.
The job is tough for modern marketers. Either you're juggling various point solutions, or you're stuck with tools that are powerful but impossible to use. This means scattered customer data, lackluster marketing, and too much time spent fussing with software. But it doesn't have to be that way.

With Marketing Hub, all your marketing tools and data are on one easy-to-use, powerful platform. You'll save valuable time and get all the context you need to provide a personalized experience that attracts and converts the right customers at scale.
Sales Hub
Yes, it's possible to love your sales CRM.
For sales teams, friction is the ultimate foe. Stitching together individual point solutions and managing their complexities? It slows you down and stalls your growth.

Sales Hub eliminates friction by bringing all your tools and data together on one easy-to-use, powerful CRM platform your whole team will love. Now you're freed up to focus on what really matters: your customers.
CMS Hub
Build a website with ease.
So you can focus on what matters: marketing.

The content management system you need to easily create and personalize website pages for every visitor — optimized for conversion across every device. Rely on developers as much or as little as you'd like.
Service Hub
Your customers expect better service.
Today, customers expect resolutions in minutes and personalized, 24/7 service through various channels. But most customer service reps are overwhelmed trying to meet these growing demands because their tools and data live across multiple sources.

Service Hub brings all your customer service data and channels together on one CRM platform, so you can efficiently onboard, support, retain, and grow your customer base. The result? Better customer service management and delighted customers at every stage of their journey.